6 Best Round Above Ground Pools 2023:
Reviews & Buying Guide
Intex 10ft x 30in Round Above Ground Pool

Intex 12ft x 30in Round Prism Frame Pool

Bestway 15ft x 42in Pro MAX Steel Frame Round Pool

Intex 18ft x 48in Greywood Premium Prism Steel Frame Pool

Summer Waves 24ft x 52in Elite Wicker Round Above Ground Pool

Best Plastic Kiddie Pool:

Intex Candy Zone Inflatable Play Center 116" x 75" x 51"
Round Above ground pools are some of the most popular pools you can get. They're easy to set up, relatively simple to use, and more durable than a lot of other shapes. But with an investment as big as getting a pool, you need to know that you're getting a high-quality pool that isn't going to cause problems down the road.
So, to help you get the best possible pool for your yard, we've done the hard work for you. We have complied a list of some of the best round above ground pools you can get. We've also included a pool buying guide to help you decide between the best options.
Plus, a lot of the most important features in an above ground pool will still be important when it comes time to upgrade to an in ground pool.
Let's get started!
The Best Round Above Ground Pools
Here are some of the best above ground round pools you can get. We've avoided inflatable pools not because those aren't a good option in a pinch, but because they are almost always less durable and permanent.
We'll go over the most important features of each pool, as well as the pros and cons of each. That way you can make the best decision for you and your family.
Intex 10ft x 30in Round Above Ground Pool
This affordable 10ft Intex pool is a good option for smaller yards, limited budgets, and people who are looking for more of a relaxing pool than an exercise pool. It's available for only a little more than an inflatable pool but is significantly more durable and long-lasting.
The steel frame is laminated for added durability. It's designed to last for years with minimal setup ad maintenance requirements.
It's light blue color also helps to keep the water inside your pool a little cooler under baking summer sunlight.
Overall, we find this is one of the best small above ground pools for families, and anyone looking for a relaxation pool. The smaller size is also a great fit for smaller properties without a lot of free yard space.
30 inches tall is tall enough to swim properly in, but not as deep as most lap pools.
One big drawback of this pool is that it's only the pool and filter pump. You won't get a ladder, cover, or any of the other maintenance equipment you need to keep your pool healthy and working well. Interested in learning more? Click here to read our full review on the 10ft Intex Pool. 
Intex 12ft x 30in Round Prism Frame Pool Set
This larger 12 ft swimming pool is another Intex creation, one of their Prism pools. Prism is a similar material, made from laminated metals coated with a powdered paint that's rust-resistant and designed to hold up to direct sunlight as well as the chemicals in treated pool water.
However, on this pool, the Prism material is only used for the pool frame, with a 3-ply pool liner to hold the water in your pool. The design is a combination of a soft-body inflatable pool with a more rigid framework.
You won't need to inflate anything, but do keep your eyes out for any leaks or worn spots in the liner. You'll want a pool patch kit to help keep wear and tear under control.
Plus, since this is a complete pool set you'll also get the pool pump that will help keep the pool itself cleaner and healthier. With a flow rate over 500 gallons per hour, it moves the water more than enough to keep things from getting scummy.
You'll still want a pool net and cover to help with maintenance, though. Here at above ground pool sets we have complied an in depth review on the Intex 12ft Prism frame pool, read the full review here.
Bestway 15ft x 42in Pro MAX Steel Frame Round Pool Set
15 ft swimming pools are one of the most popular pool sizes because they fit well in a lot of yards, while still giving you a little more space to relax in your backyard. If you are looking for the best medium sized above ground pool, this Bestway pool is a top choice. It's a good depth as well, at 42 inches, relatively kid-friendly but still deep enough for adults to relax easily.
This 15ft Round Bestway pool's durable steel frame is coated with a rust-resistant powder finish paint. That means years of durability without a ton of maintenance.
The liner on this pool is a PVC blend that's a little more lightweight than a lot of other liner options without losing much in the way or durability. Take a closer look at this pool by reading our
Intex 18ft x 48in Greywood Premium Prism Steel Frame Pool Set
Another Intex model, this larger family pool is designed for durability and affordability, despite coming with a higher price tag. That extra cost covers the ladder, pool cover, and pump for this larger family pool.
Plus, it features the same Prism Steel frame for long-lasting durability and rust resistance, no matter what weather conditions it has to deal with.
The big stand out feature of this 18ft round above ground pool is the attractive wood grain design on the outside of the pool. It does heat up the water a little more than a softer cool colored exterior, but this pool can easily be part of your yard landscaping instead of taking away from it.
Setup is still simple and can be completed in just a few hours if you don't have to modify your yard to make space for the pool. The pump can be set up without any difficult technical work, and replacing filters isn't difficult.
All in all, this larger, deeper, family pool is a fantastic choice whether you're looking for somewhere to relax or somewhere to exercise and play. 
Summer Waves 24ft x 52in Elite Wicker Round Outdoor Swimming Pool Set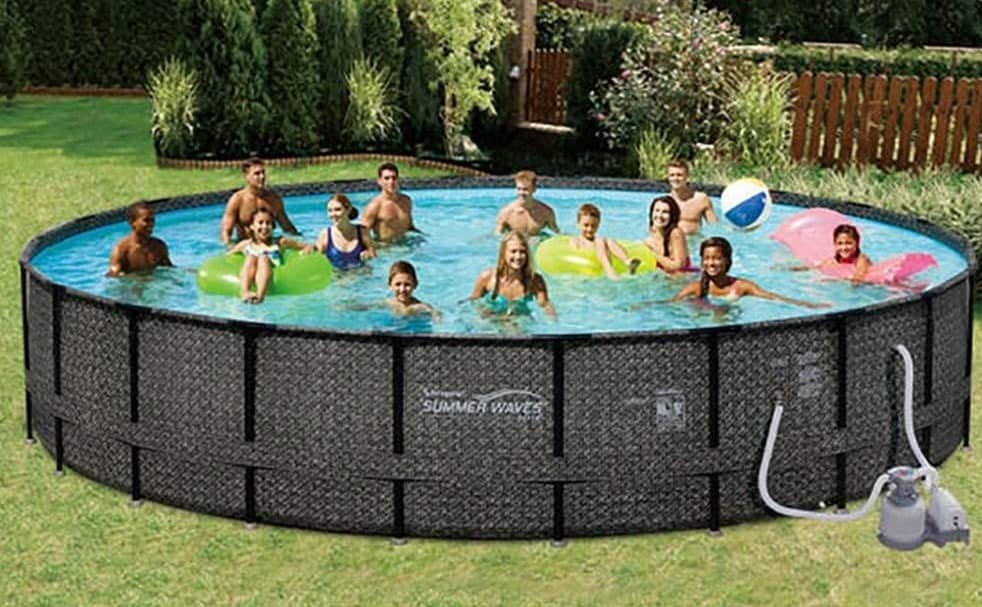 If you're looking for something even bigger, this 24 foot Summer Waves pool set is a great addition to your yard. The ground cover fits neatly under the pool, helping to protect the liner and increase the durability. A sand-filter pump and other accessories help round out this package.
That said, while this is a very complete pool set, it's also the most expensive option on our list. Once you're looking at pools this size, price increases faster than the size of the pool.
Still, this pool isn't just wide, it's also deeper than any of the other pools on our list. If you're looking for large above ground pool you can really relax and float in, this is a good option. It's still a little less kid-friendly than other options, but safety jackets and inflatable toys can help make it safer.
The deluxe maintenance kit that comes with this pool also makes managing the chemical balance a lot simpler, and it's a great upgrade from a smaller first pool. Despite its size, this round above ground pool is also beginner-friendly.
Intex Candy Zone Inflatable Play Center 116" x 75" x 51"
For ages 2+, use under adult supervision
Sometimes you aren't looking for a larger pool or a pool for the adults in your family. Kids pools are usually a different design and often aren't as durable as pools that are designed as family pools or adult pools.
All of that is true with this pool. Designed for kids ages 2 and up, it's candy-themed design is bright and colorful but shallow enough to be much safer for your kids to play.
The pool includes a sprinkler line, small pool area, and a water slide for your small children to enjoy. That means that it does need a hose connected to help with that sprinkler system, but it's still a fantastic option if you're just looking for something that can help your little kids cool off in the summer.
Round Above Ground Pools Buying Guide
This buying guide is mostly for above ground round pools, but some of the information also applies to other kinds of pool. Plus, we've also included a short section discussing other possible pool shapes so that you can decide what shape is the best fit for you.
Features to Consider When Buying A Round Above Ground Pool
Here are some of the most common pool features you should consider before you invest in a new pool for you and your family.
Common Round Above Ground Pool Sizes:
12 ft Diameter Pools
A little larger, but these pools are still only design for 4-5 people at a time. 12ft Pools are available as both an inflatable pool or a steel-frame pool.
At this pool size, it's a little more common to start seeing an attached pool pump and other accessories included with the pool. We've reviewed the Summer Waves 12ft x 33in Elite Pool, read our review by clicking here. 
15 ft & 18ft Diameter Pools
15 ft pools are some of the most popular and common pool sizes for above ground pools. There are tons of pool options, they fit more people, and are available in more pool materials than many other sizes. 
Above ground pools that are 15ft or 18ft round are the sizes where you can often get the best value for your money. 
Check out our curated reviews on the Intex 15ft Easy Set Pool as well as the Intex 18ft x 52in Ultra Frame Pool. 
24 ft Diameter Pools
While there are pools larger than 24 ft, they are less common and much more expensive than other common pool sizes. Even 24 ft pools are usually a bit more expensive for their size than 15 or 18 ft pools, but they great option for larger families and group gatherings.
Kid-Sized
Kid-sized pools are generally a foot or less deep. They're mostly inflatable pools, though there are some hard-side plastic options as well.
These depths are designed to keep things a little safer for your kids, but they'll still need supervision in the pool.
30 in Pool Depth
30 inches is a little shallower, this is a 2 and a half foot pool. They're good for relaxing and good for elementary school kids who know how to swim but can't necessarily be trusted in a really deep pool.
Pools that are 30in deep may be a little more challenging for adults, and it not usually deep enough for exercise.
42 in Pool Depth
42-inch pools are enough deeper that this is where you can start exercising in your pool a little more, but it's still not deep enough for serious swimmers.
48 in + Pool Depth
As your pools get bigger, you'll also see deeper pools, getting to 48 inches and deeper. A 48-inch pool is a 4ft pool. That's deep enough for most swimming, good for adult recreation, and fun for older children.
There are some deeper pools, but you'll see the price go up significantly for pools that are deeper than 4ft.
Types of Materials Above Ground Pools are made of:
Inflatable Style Pools:
Inflatable pools are usually the cheapest, but they are also the least durable. Most inflatable pools won't have a pump attached, so you'll need to clean and change the water regularly.
These pools can also be punctured relatively easily, so you should have a patch kit on hand.
Steel Framed Pools:
Steel is the most common material for above ground pools, especially steel frame and soft-liner pool combinations.
These are durable, low-maintenance options that are designed to last for a few years at a time.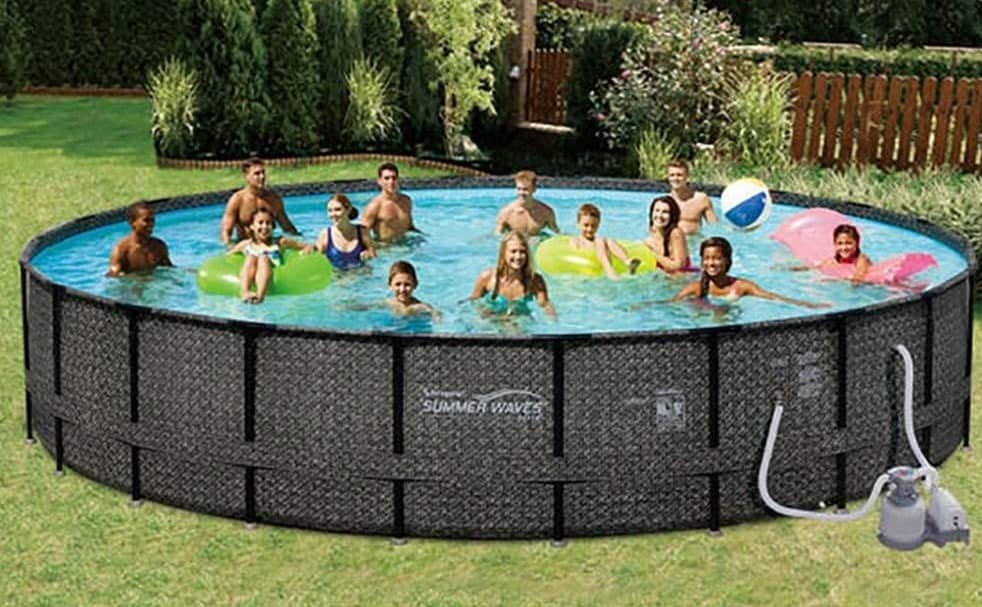 Resin Pools:
Resin is the most durable pool material, but it's one of the least common options for above ground pools. Resin pools also often need a little more setup, but they are a much more permanent addition to your home.
Common Above Ground Pool Shapes:
Round Above Ground Pools:
Round pools are some of the most common because they are very structurally sound and durable. They give you a lot more space for their footprint and are easy to maintain.
Rectangular pools are a little rarer because the sharp corner is harder to maintain, making them a little less durable. These pools are perfect for exercise but are often more expensive and may require professional installation.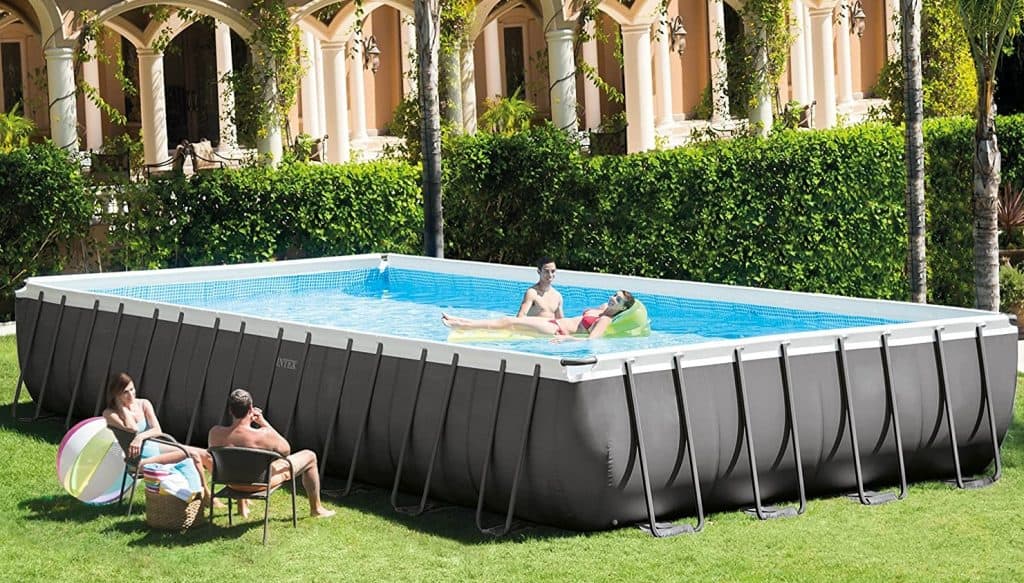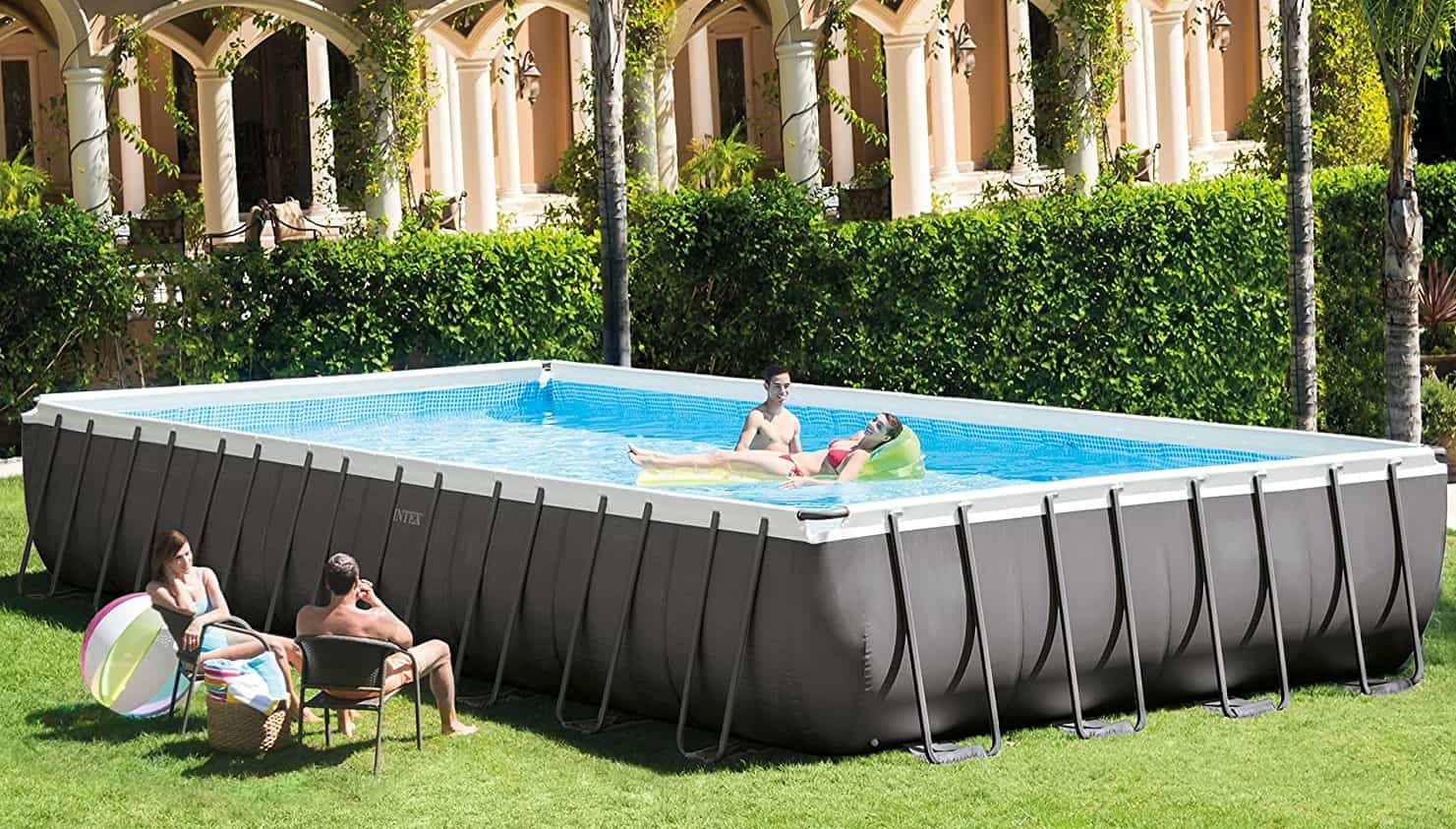 Custom Pool Size:
Custom pools almost always take a custom order and professional installation, but they can come in almost any shape or size. It's critical to pick a good material to support the shape of the design you've chosen.
Final Thoughts on Round Above Ground Pools
Finding the best round above ground pool for your yard can be a serious investment. Always make sure you have the space before you order your pool. Remember that the ground under your pool needs to be very flat and clear of debris before you can install your swimming pool.
While a round swimming pool can be installed in as little as an hour, it may take a few days from start to finish, especially if you've prepared the ground underneath for a more permanent pool installation.