6 Best Rectangular Above Ground Pools 2023:
Reviews & Buying Guide
Top Picks: Best Rectangular Above Ground Pools 2023


Best Large Rectangular Pool


Intex 32ft x 16ft x 52in Ultra XTR Rectangular Pool Set

Bestway 24ft x 12ft x 52in Power Steel Rectangular
Above Ground Pool Set

Intex 18ft x 9ft x 52in Ultra XTR Rectangular Pool Set

Intex 16ft x 8ft x 42in Prism Frame Rectangular Pool Set

Best Inflatable Swimming Pool:

Homech Family Inflatable Pool: 120in x 72in x 22in

Best Pool for Toddlers/Small Children:

Intex Ocean Inflatable Play Center 100in x 77in x 31in
Above ground pools are a fantastic way to cool off and relax in the summer. They're a great addition to your backyard, and, better yet, can be a fantastic way to keep your kids entertained and out of your hair in the summer.
Rectangular above ground pools have the added advantage of being great of exercise and a good way to stay in shape during those sweltering summer months.
That doesn't mean that rectangular pools don't come with their own challenges. They're a little harder to design than round pools, thanks to the added difficulty keeping a tight water seal in the corners. But they can also be easier to fit into your backyard, and easier to design a deck and other yard improvements around.
Like all pools, it's important to look for high-quality and durable options. An above ground pool is a serious investment, and you want it to last for years. You don't want it to start leaking and break down after only a year or two.
So, with that in mind, here are some of the best rectangular above ground pools, and above ground pool sets you can get. We've also provided a short buying guide at the end.
The Best Rectangular Above Ground Pools
Here are some of the best rectangular above ground pools you can get today. We've chosen from a wide range of sizes to make sure that there is at least one pool for every yard and every family.
At the end, we'll highlight the pros and cons of each choice so you can choose the right fit for you.
Intex 32ft x 16ft x 52in Ultra XTR Rectangular Pool Set
Intex is one of the best names in affordable above ground pools. Their rectangular above ground pool sets are durable and designed to work well in most backyards, without a ton of modifications or yard prep.
This large 32×16 above ground pool is perfect for large properties and families who want to have a ton of summer fun. It's longer rectangular design is great for staying in shape, practicing your swimming, and doing water aerobics.
Plus, the deeper design (almost 5 ft deep) is good for practicing underwater turns and other important competition techniques.
This pool features a galvanized steel frame for added durability, along with a specially designed liner that holds water without putting too much stress on the delicate corners of the pool.
Plus, like all Intex above ground pools, this one is easy to assemble and can be ready in as little as 90 minutes. Of course, plan on a little longer if your hose has a lower water flow rate.
We've taken a deeper dive into this 32ft rectangular above ground pool if you are interested in reading our full review. 
Bestway 24ft x 12ft x 52in Power Steel Rectangular Above Ground Pool Set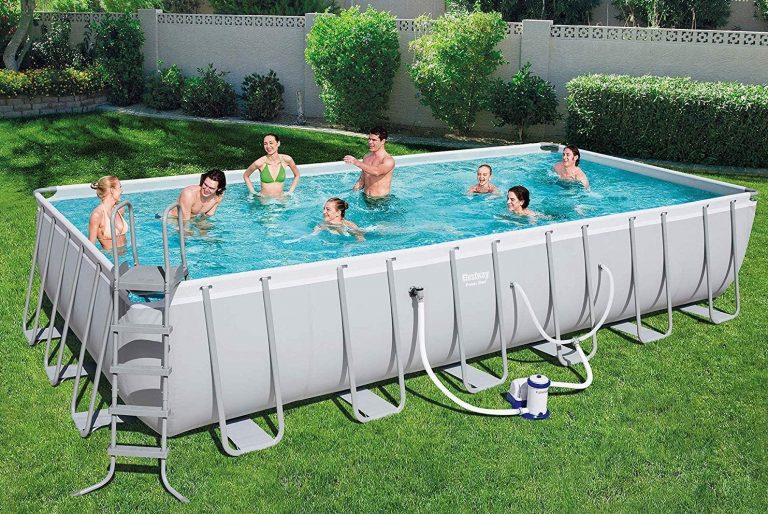 This Bestways rectangular above ground pool is another steel tubing frame. This design is just as durable as the larger pool we've already reviewed, but with a slightly smaller footprint that makes it more friendly for your average backyard. This rectangular framed pool is a good option if you're looking for something that will fit a suburban backyard, but still offers a lot of exercise and relaxing space.
It's big enough for large families to enjoy the whole pool together and will be the highlight of your next summer backyard barbecue with friends.
One of the things we love about this pool is that it's a really complete pool set. You get the filter you need, a starter filter cartridge, the ground cloth to help protect the underside of your pool, as well as a pool ladder.
Intex 18ft x 9ft x 52in Ultra XTR Rectangular Pool Set
The Intex 18ft x 52in Ultra Frame pool is moderate-sized pool which features the slightly curved corners and durable design that helps your pool last significantly longer. It's more conservative footprint leaves more room for your other outdoor furniture and hobbies.
We think this rectangular Intex Ultra Frame Pool is a good compromise between the pool-loving members of your family and the gardeners, barbecues, and other outdoor hobbyists.
This pool also has a precision locking system. That means that the frame is a lot more stable than with other pools where the frame can shake and dance a little while you use the pool. A locking system is key to making sure your pool is stable, especially if you want to build a deck around the pool.
The sand pump offers a flow rate of about 1,200 gallons per hour. That's more than enough to handle the water in this pool and is a better match for this pool than some of the larger sizes where the included pump doesn't quite get the job done.
Our research has found most common issue with this swimming pool is some liner damage can happen in transit. Unfortunately, Intex customer service may be difficult to work with when you're trying to fix liner damage.
Intex 16ft x 8ft x 42in Prism Frame Rectangular Pool Set
This Intex Rectangular Above Ground Pool at 16x 8 is a little smaller compared to some of the other pools we've discussed, but for some perspective, this is still wide enough that you could float comfortably in the smallest dimension of the pool.
At about 3.5 feet deep, it's also a good option for swimmers, though not comfortable for practicing diving. Here at Above Ground Pool Sets, we agree that its one of the best small rectangular above ground pools available. 
16 feet is even still long enough for comfortable lap swimming (and you'll get really good at those underwater turns), so this is a good option if you're looking for a reasonable exercise pool.
This small rectangular above ground pool is also a little more affordable than many pools. The Intex Prism Framed design is reasonably durable and doesn't have some of the leakage problems that come with other rectangular pools.
The light color of the liner on this Intex swimming pool also helps prevent it from heating up, keeping your pool water beautifully cool so that you can relax in the summer.
With this set, you'll get a pool cover, filter pump, ground cover, and a removable ladder. That's everything you need to get started, whether you're going to build a deck around your pool or leave it sitting open in your yard.
Homech Family Inflatable Pool: 120in x 72in x 22in
Sometimes you aren't looking for a permanent pool option and just need something that gives you a little summer fun on a more affordable budget. That's where inflatable pools really shine.
This more structured Homech rectangular pool doesn't sag nearly as much as the round versions, letting it stay deeper and easier to entertain. Not to mention that you get to enjoy the full depth of the pool.
This 10ft by 6ft pool is also a larger size than a lot of inflatable swimming pools, and the whole family can enjoy an afternoon of summer fun comfortably.
The liner is relatively durable overall, but still prone to leaks and deflating. Keeping a pool or airbed patch kit on hand is a good idea if you want to help this pool last.
Each band of the inflatable pool is separated. They each have their own pressure lock and hold up a different portion of the pool. That means that if one section deflates, you won't lose nearly as much water. The other two bands of the pool will still hold water.
Intex Ocean Inflatable Play Center 100in x 77in x 31in
Lastly, if you're looking for a pool that can help your toddler stay cool in the summer, you need a very different kind of pool. This pool playset is designed specifically to appeal to your younger children while keeping them safe and preventing summer overheat.
The pool play area is shallow enough to help keep your little ones safe and comes with floating rings and toys to keep them entertained.
Hooked up to an active hose, and the pool also sprays water through the air so that your little one can run around and play.
The slide is also a huge addition for a lot of little kids. It keeps them entertained and active while avoiding the summer heat.
This pool kit also comes with a helpful patch kit. That way you don't have to worry too much if your kids are getting a little rowdy. You can always patch a small hole or seam burst when playtime is over.
Rectangular Above Ground Pools Buying Guide
Like all swimming pools, there are some important things you should be thinking about before you go out and buy. The shape and size of your pool can significantly change how you use it. Plus, some shapes are more durable than others.
Here are the things you should think about.
Features to Consider When Buying A Rectangular Above Ground Pool
Common Rectangular Above Ground Pool Sizes:
12' x 6 and Smaller:
These are usually the smallest rectangular pools. They're big enough for elementary school kids can fit a couple of adults who want to relax. These pools aren't big enough for exercise, so they're mostly good for relaxing and cooling off in the evenings.
16' x 8'
These larger pools are about the smallest size that works for exercise but are still a mostly relaxation pool, not a lap pool. The larger size means that you need to start thinking about placement and land preparation. It's a good idea with any pool, but a requirement with these.
12' x 24' and Larger
Rectangular pools can be huge, though there are some constraints thanks to the physics of water in corners. Once you're looking at a pool around 12 x 24 feet or larger, you've got a great party and exercise pool, but one that will probably need some prep work.
Unless you have an exceptionally flat yard, plan on some flattening work and laying new terrain to help support your pool properly.
Rectangular Above Ground Pool Depths:
Kiddie Pools
Kiddie pools are usually a foot or less deep and are designed to help your kids stay cool, but aren't meant for teaching swimming or water safety.
30 inches and less
These shallow pools are usually smaller in other dimensions as well. They're great for relaxing and teaching early swimming skills to young children, but they aren't a good exercise pool for adults.
42 inches
At about 42 inches you have enough space to comfortably start swimming for exercise. These are good for kids age 7 and up with some swimming skills, but can be safe for smaller children with the right safety equipment.
48 Inches or more
Once your rectangular pool is 48 inches or deeper you should expect a price increase. These pools are great for exercise and relaxation, but the added water weight means that they need a lot more enforcement.
That added reinforcement adds to the cost, so deeper pools like this are usually also larger in other dimensions.
Rectangular Above Ground Pool Covers
Rectangular above ground pool covers need a little extra reinforcement at the corners to stay stable and avoid tearing. Look for a more durable cover that's made from several layers of fabric.
The corners should also be thicker, with a snug fit to make sure it doesn't stretch too much and need early replacement.
Other Common Above Ground Pool Shapes:
We've mostly focused on rectangular pools in this article, but these pools aren't always the right fit. Here are some other pool shapes that are worth considering.
Round Above Ground Pools:
Round pools are perfectly circular, or near-perfectly circular. These pools are some of the most common because they are easier to manufacture and don't have as many stresses from the water weight and pressure on the pool liner.
These pools are fantastic for relaxing, but they aren't a great pool for swimming and other exercise.
Check out our top picks for the Best Round Above Ground Pools by clicking here. 
Oval Above Ground Pools
Oval pools are somewhere between rectangular pools and round pools and can come in a huge variety of shapes. They are a little more durable than rectangular pools since they don't have harsh corners, but they aren't as good for exercise.
There are also fewer standard designs for oval pools, so you may have to get a custom pool to get the exact dimensions you're looking for.
Custom Pool Size:
You can also hire a private contractor to use a pool frame to create a custom pool shape for you. This is great for yards with a lot of landscaping you don't want to change but adds a lot to the cost of your pool.
Custom pools can come in almost any shape, but you'll need to work with your contractor to make sure you've picked a durable design.
Final Thoughts on Rectangular Above Ground Pools
Above ground pool sets can be set up in as little as a single day, but there is some prep work you should consider doing first. Laying down a sandy terrain or another soft terrain under your pool will help increase its durability. More importantly, you may need to level the ground underneath, especially if you want the pool to be a permanent addition to your home.
Always do your research and pick a location for your swimming pool before you set it up. The last thing you want is to purchase a rectangular above ground pool you can't use or to get a leak because of poor planning and preparation.
Happy swimming!
Thinking about buying a round above ground pool instead? We've complied our Best Round Above Ground Pool Guide, which you can read by clicking here.