7 Best Above Ground Pools 2023:
Reviews & Buying Guide
Our Top Picks for the Best Above Ground Pools 2023

Best deep above ground pool:

Intex 18ft x 52in Ultra XTR Swimming Pool

Best pool for small yards:

Summer Waves 8ft x 30in Round Above Ground Pool


Best pool for swimming laps:

Intex 32ft x 16ft x 52in Ultra Frame Above Ground Pool

Bestway 12' x 30" Steel Pro Max Above Ground Pool

Best Resin Above Ground Pool:

Sahara 30 ft x 54 in Round Metal Wall with Resin Frame
Above Ground Pool

Intex 8ft x 30in Easy Set Round Above Ground Pool

Costzon Inflatable Bounce House
Our Best Above Ground Pools 2021 Guide will cover all the features you should pay attention to in a new above ground swimming pool, as well as some of the best pool options for your yard. We've considered pools for different purposes, ranging from an inflatable toddler pool all the way through to large pools designed for swimming laps.
When you're considering investing in a new swimming pool you want to know that you're getting one of the best above ground pool available. There are tons of different above ground pools and designs to choose from, but picking the right pool one for your needs doesn't have to be difficult.
This above ground pool buying guide will help you pick the right above pool for your family whether this is the first time you've purchased an above ground pool or are looking for an upgrade for your old swimming pool.
Let's dive in.
Benefits of Owning an Above Ground Pool in Your Backyard
Owning an above ground pool has a ton of benefits, but here are some of the most important ones you may want to consider:
Great for relaxing in the summer
Saves on public pools costs
Generally cleaner and more hygienic than public pools (when properly maintained)
Tons of fun for entertaining
Pools are fantastic for exercise
Pool swimming can help with physical therapy
And much more
The Best Above Ground Pools
Instead of looking at any one above ground pool type or design, we've chosen to consider a wide variety of pools based on why you're looking for a pool. These purpose-designed above ground pools are sure to please.
But, if you're looking for a specific kind of pool, you can also look for pools by shape.
Don't be surprised to see different shapes and materials in this list. We didn't limit our pool choices, so each one is the best possible fit. 
Once we've reviewed the Best Above Ground Pools 2021, read on for the buying guide we have complied to guide you on the features you need to consider when purchasing the right swimming pool.
Deep pools are a good idea if you're a serious swimmer, want to be able to jump in your pool or practice shallow dives, or just want a good space for relaxation that's comfortable for adult swimmers.
These above ground swimming pools tend to be a little bit more expensive than shallower pools, and need a little more maintenance. That's because the added depth increases the water capacity quickly. You should also plan on spending a little more to fill these pools if you're considering purchasing the water instead of running it through your hose.
This Intex 18 ft pool is a fantastic option if you're looking for a deep above ground pool above all else. The round design makes it a little more durable than longer oval and rectangular pools, and it's also a great option for entertaining since you can see and talk to other people in the pool more easily.
This pool isn't huge, 18ft is a little larger than average, but still small enough to fit inside most yards comfortably.
Its precision locking frame helps prevent movement in your swimming pool, even when you have several people actively swimming. 18 ft is also a more reasonable length for people who are looking to practice swimming. You can swim a curved route around the outer edge, or laps through the middle of the pool.
The included pump with this model is also a little more powerful than many. Its flow rate is about 2,000 gallons per hour, which should comfortably keep the water in this pool moving. You may still want an upgrade though because while the flow rate is good, this filter isn't one of the more powerful options available.
Still, you can get the pool first and upgrade the filter after a season or two to help spread out the expense of owning your own pool. Interested in learning more about this Intex 18ft round pool – click here to read the our full review. 
There's no reason you can't have the best above ground pool just because you have a small backyard. You don't even have to settle for a small inflatable pool if you don't want to (though there are some very high-quality inflatables).
The Summer Waves 8ft above ground pool is a small, metal-frame soft-sided pool is a good fit for smaller backyards, but deep enough to be comfortable for adults and older kids. It's slightly shallower design (30 inches deep) is still more than enough to relax and even practice a little swimming in. Just don't try to dive or flip in this pool.
The whole thing is designed to be steady and stable on the ground. The frame will help keep the pool in place while your kids are playing and makes it easier to get in and out of the pool.
The quick setup on the Summer Waves 8ft Pool is a huge advantage as well. It doesn't take very long to get this above ground pool set up and ready for water. Filling it takes a little longer, but can be managed with only a regular garden hose.
Like other above-ground soft-sided pools, this one can also be broken down during the off-season, giving you a little more room in your backyard autumn-spring.
Storage is relatively simple, though we do want to note that folding and storing the pool liner will shorten it's life slightly. 
For one of the best family above ground pool, we looked for a moderately sized pool that's deep enough to be comfortable, but not so deep to be a risk for younger children who are still learning to swim. We wanted a round pool because round pools tend to be better for social play and spending quality time together.
This Bestway 12ft pool checked all those boxes. As a 30 in deep pool (2.5 ft), it's deep enough to be relaxing and fun for adults, but shallow enough that unsteady swimmers will still be confident and able to have fun in the pool.
It's wide enough that it can easily fit 4-5 adults, or 6-8 children, comfortably and with enough space to move around.
This 12ft pool may also come with a filter pump. That means fewer additional expenses after you purchase the original pool.
The metal frame is also a nice addition. Its rust-proof coating is relatively durable, and this pool is designed to avoid the deep curves and sagging that some soft-sided pools can have. It also helps to avoid a lot of the movement and dancing that can more your pool when you're actively swimming.
The beautiful decorations on the outside of this pool liner are just a bonus when it comes to this family-friendly pool. Read our full review to learn more about the Round 12ft Bestway Pool.
Best Resin Above Ground Pool
Sahara 30 ft x 54 in Round Metal Wall with Resin Frame
Above Ground Pool
Sahara 30ft Above Ground Pool Set includes: vacuum, ladder, light & pool skimmer
Resin pools are some of the most durable options on the market. They're relatively hard to find, however, so be prepared to pay a little more for the added durability if you're sure you want one of these pools.
This 30 ft round is definitely worth spending a little more to purchase though. The deeper 54 in design combined with the large size of this pool mean that having a resin frame and hard metal side walls are a huge advantage. It would be much more difficult to maintain a soft-sided pool of this size.
In addition to being the most durable of all the pool on our list, this pool comes with more of the most important accessories. The pool liner comes with a vacuum so that you can create a tight seal with the inside of the frame. You'll also be able to clean out scummy bottoms and any debris in your pool much more easily.
Add to that the removable ladder, an included pool light, and a skimmer system, and a larger filter, and you have a very complete pool package.
Costzon Inflatable Bounce House
This inflatable bounce house and the pool is a little more resource-intensive than some alternatives since it needs both an active hose and an air pump to help it run properly. That said, this larger bound house pool will help keep your kids entertained for longer.
Not to mention that it's more interactive and larger design will keep your kids interested even as they start to get older. We really think that the extra investment for a kids pool like this is worth the cost to purchase and operate.
This equipment also comes with a carry bag as well as a repairing kit and stakes to help you keep the bouncing house and water secure. All that means that you can use this kid's pool in your backyard, in your front yard, or even over at a friend's house.
No more leaving your pool behind when its time to go visit Grandma.
We also like that this pool design is more durable and less likely to develop rips and tears than standard inflatable kids' pools.
Types, Shapes, and Sizes of Above Ground Pools
Above ground pool sets in the United States generally run somewhere between $1,800-$5,000 depending on the size of the pool and its construction materials. That's just for the above ground pool installation kit, professional installation is an additional cost.
Like the price of the pool kit itself, the cost of professional installation can vary from place to place. Professional installation generally runs between $1,000-$3,000. 
Inflatable pools are a different beast entirely. These plastic pools are meant to be inflated with an air compressor, can't stay outside year-round, and often don't have a filter system.
However, they have very few installation requirements, are significantly cheaper, and are a great way to give your kids a pool without the high costs of a traditional above ground pool.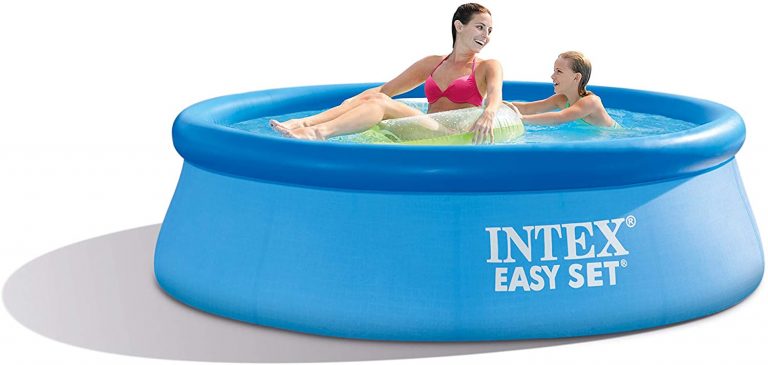 These pools are generally $500 or less, can be installed in a single day and can be drained quickly at the end of the season.
Inflatable pools range from little kiddie wading pools through 15ft inflatables that are similar to traditional above ground pools. The larger your inflatable pool is, the deeper the water.
Traditional frame above ground pools are either round or oval-shaped. Round pools are more common, more affordable, and hold more water in a smaller area. Oval pools are generally preferred by people who want to be able to work out in their pools.
You can get a rectangular above ground pool, but chances are that you'll be purchasing a custom kit instead of a pre-made version.
We're going to talk about each type of pool material, but you should also know that there are hybrid models available that use a combination of different materials.
Traditional frame pools start at about 15ft in diameter and can go up to around 33ft in diameter.
Steel is a common option for many people because it's one of the more affordable materials, is relatively lightweight, and doesn't have too many maintenance requirements. However, since salt corrodes steel, you probably won't want to try a saltwater set up with a steel pool.
Resin is the most expensive material option for above ground pools, but it's popular because it's significantly more durable than other material options. Resin also resists sun damage and stays cool even in direct sunlight, which helps to keep your whole pool cooler and more pleasant.
Resin is the most expensive material option for above ground pools, but it's popular because it's significantly more durable than other material options. Resin also resists sun damage and stays cool even in direct sunlight, which helps to keep your whole pool cooler and more pleasant.
Choosing the Right Pool Shape and Size for Your Yard
The size of your pool depends on how much space you have in your yard, as well as how flat the land is. Large flat yards can generally accommodate a larger pool than the same size yard with a lot of hills and slopes.
Ideally, you'll want a location without too many trees overhead since falling leaves and other debris add to pool maintenance.
You should also avoid anywhere with power lines overhead since a downed line can make your pool highly dangerous.
Your local municipality may have specific regulations regarding utility lines and other underground infrastructure, even for above-ground pools. Always get your utility lines marked before you decide where to install your pool. If necessary, you may be able to relocate some utilities, but at an extra cost.
Installing Your Above Ground Pool FAQs
What Type of Base Do You Need for an Above Ground Pool?
Your pool needs material underneath that's designed to take the stress of the pool weight, and that is comfortable under the pool liner.
Sand and stone dust are the two most common selections for pool base materials. You can also install an additional protective layer between the base material and the liner. The extra material will make your pool significantly more durable, and can also help make maintenance easier.
Can I Install an Above Ground Pool Myself?
Absolutely! Installing an above ground pool does require some experience with power tools and an eye for precision, but it can be accomplished on your own.
The biggest challenges are flattening the ground below the pool (if necessary) and laying the base. We do recommend professional install if you're installing a partially below ground pool by building into a slope, or if you have a lot of work to flatten the land underneath.
Have Installed by Professionals?
Professional installation starts around $1,000 most places and gets more expensive the more work your installers need to complete to get the job done. That means that bigger pools are generally more expensive to have installed than smaller ones and that flat terrain is less expensive than hills.
How Long Does It Take to Install an Above Ground Pool?
Total installation of an above ground swimming pool generally takes at least 10 days. The actual work can be done in a single day, but your pool won't be ready to use immediately. The extra time allows for the base under the pool to settle before you use it.
However, you should add at least a couple of days to the total if you're having to flatten or change any of your landscape to accommodate your pool.
Maintaining Your Above Ground Pool
Your above ground pool will need some chemical maintenance in addition to physical maintenance. It's a good idea to buy a test kit and test every week unless you purchase a filter that automatically tests and ameliorates the water for you.
Fortunately, there are liquid test kits as well as testing strips that make monitoring your water quality and chemical concentration much easier. You can also buy bulk chemical kits so you always have the chemicals you need on hand.
Can Above Ground Pools be Salt Water?
Yes! Saltwater above ground pools are generally lower maintenance and can be easier to take care of than chemically managed pools. However, saltwater is a lot harder on steel and aluminum pools, so it's best to get a resin pool frame if you want to switch to saltwater.
How do I maintain my above ground pool?
You'll have some pool maintenance you'll need to perform. Mostly scooping out leaves and other small debris from the pool water, and occasionally vacuuming the pool lining to get rid of any scum or sunken debris in the bottom.
Depending on the type of pool frame you have, you will want to occasionally check it for signs of corrosion and wear and tear.
Lastly, if you use a sand pool filter (the most common type) you'll need to change out the sand regularly.
Can Above Ground Pools be Heated?
Yes! Above ground swimming pools can be heated easily with solar covers and other solar heating tools. Those tools can extend your pool's effective season, without adding to maintenance costs or heating your pool when you don't want it heated.
Alternatively, you can install a heater pump that raises the temperature of the pool. However, those come with electricity costs. Above ground pools also shed more heat than in-ground pools, meaning that it takes more power to heat them.
Resin walls help with that since they are less thermal reactive than metals.
Must-Have Accessories for Your Above Ground Pool
We're not going to spend much time on accessories, but these above ground pool accessories can make pool maintenance easier and pool time a lot more fun.
Pool floaters
Pool toys
A ladder
Pool vacuum (one usually comes with the pool)
Pool cover
Solar cover for heating
Heat pump
Final Thoughts on choosing the Best Above Ground Pool for you
These are some of the best pools for each purpose, but that doesn't always mean that these are the best swimming pools for you. Spend some time looking at our buying guide and user reviews to make sure you've got a good sense of what kind of swimming pool you want, and when you want to buy it.
Remember that all of these above ground pool sets will benefit if you level and prep the ground with special ground cover. But, if you're planning on selling your home (and taking your pool with you) you should also be prepared to undo that work if the new owner requests it.
Think carefully about how you want to use your above ground pool, and try to pick one closest to your needs. That way you can be confident in the design of your pool and that it will work well for you for years to come.
Our last tip is to always look at the warranty. You should get a least a couple of year warranty on a soft-sided pool, and much longer for a hard-sided pool, especially with a resin frame.
We're sure that if you keep everything in mind and take your time choosing your new pool you'll benefit from years of happy swimming to come. Enjoy!
Beat the summer heat and keep cool
There's an above ground pool set to suit your budget and the size of your yard. 
Let us help you find the best pool for you!