Fun in your backyard swimming pool starts here...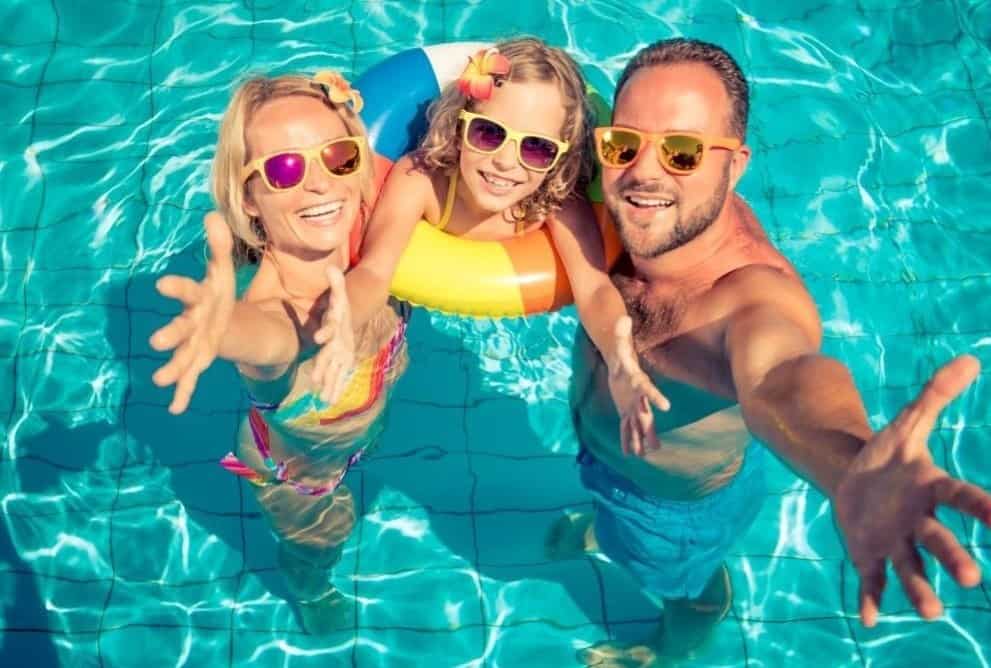 Our most in-depth and comprehensive buyers guide. We've researched and reviewed the top above ground pools.
This buyers guide explains types of pool equipment on the market, which ones you need and our editors top picks. 
Keep your above ground pool sparkling clean and ready to enjoy can be easy with our guide to maintaining your pool.
Welcome to Above Ground Pool Sets
Home of the best above ground pool reviews and buying guides to help you decide on the right above ground swimming pool to suit your family and your backyard space. On this site you can learn all about rectangular, round and oval above ground pool sets including both traditional framed and inflatable swimming pools. 
We discuss pool accessories including the ones required to keep your pool looking sparkling clean as well as pool toys which will keep your friends and family entertained for hours.
Browse the range of Above Ground Pools from the most popular brands...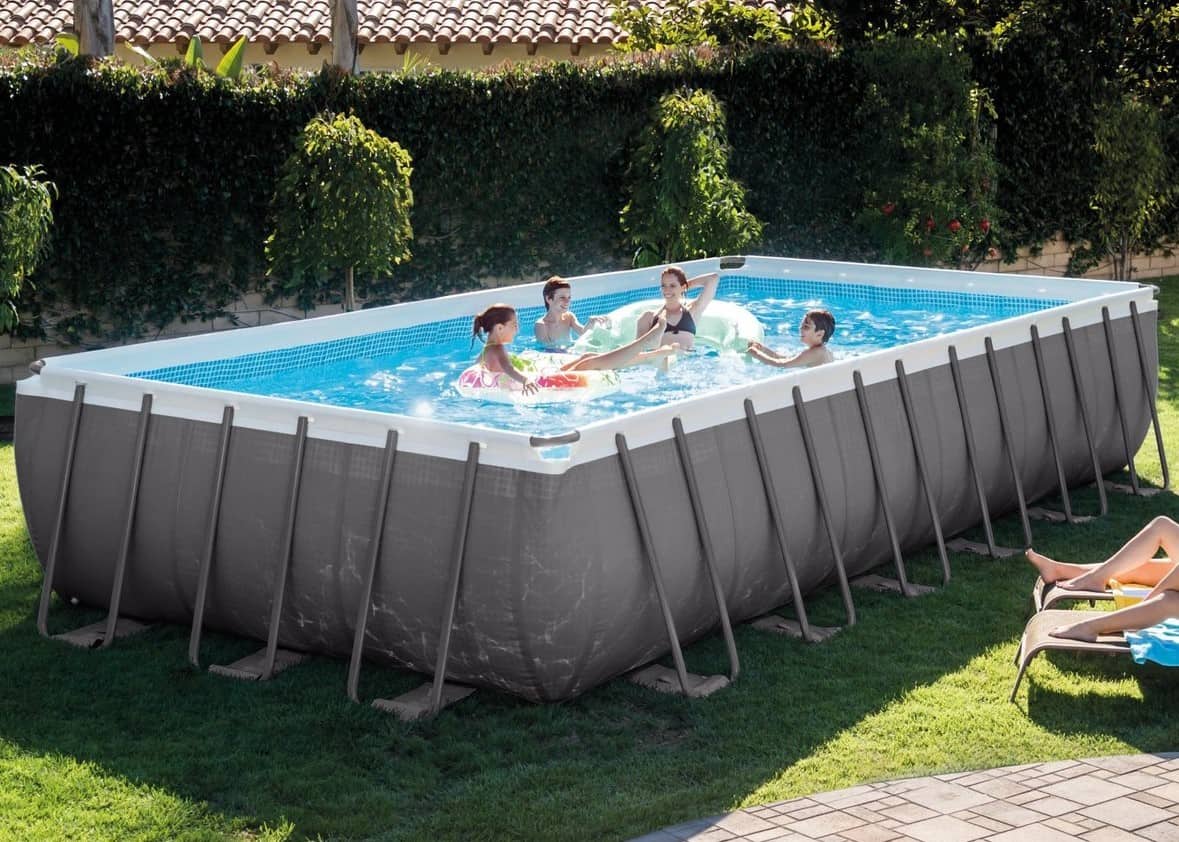 The Intex Brand offers a wide range of different kinds of pools including Inflatable Easy Set Pools, Metal Frame, Prism Frame and Ultra Frame Pools. 
Summer Waves have plenty of options when it comes to above ground pools. From Inflatable Quick Set pools to Metal frame Elite Pools & Active Frame Pools.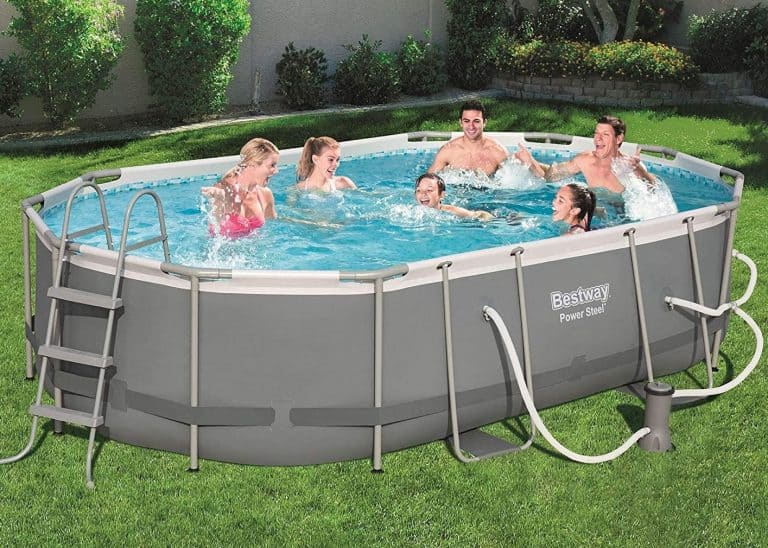 Bestway is well-known for making outdoor family above ground pools. From Inflatable Fast Set Pools to Steel, Steel Pro and Power Steel Above Ground Pools. 
Popular Above Ground Pool Set Reviews
Find the Best Above Ground Pool Set for You
Our editors choice for the Best Above Ground Pools and buying guides make it easy to find the right pool for you and your lifestyle. 
5 Reasons to choose an Above Ground Pool instead of an In Ground Pool
Above ground pools are easier and faster to install
One of the biggest advantages of these types of swimming pools is that they are much easier to install, and don't require nearly as much excavation as inground pools. 
The whole process only takes a couple of weeks to complete, and a lot of that time the pool will technically be finished, but the ground underneath is still settling.
Above ground pools are a lot less expensive than in-ground pools.
Pools are expensive to own and can be somewhat costly to maintain. Above ground pools are less expensive for several reasons:
Less excavation
The walls don't have to be as durable
Easier to maintain and repair
Requires less time and effort for professional installation.
If you're looking to get a pool on a budget, above ground pool sets are the way to go.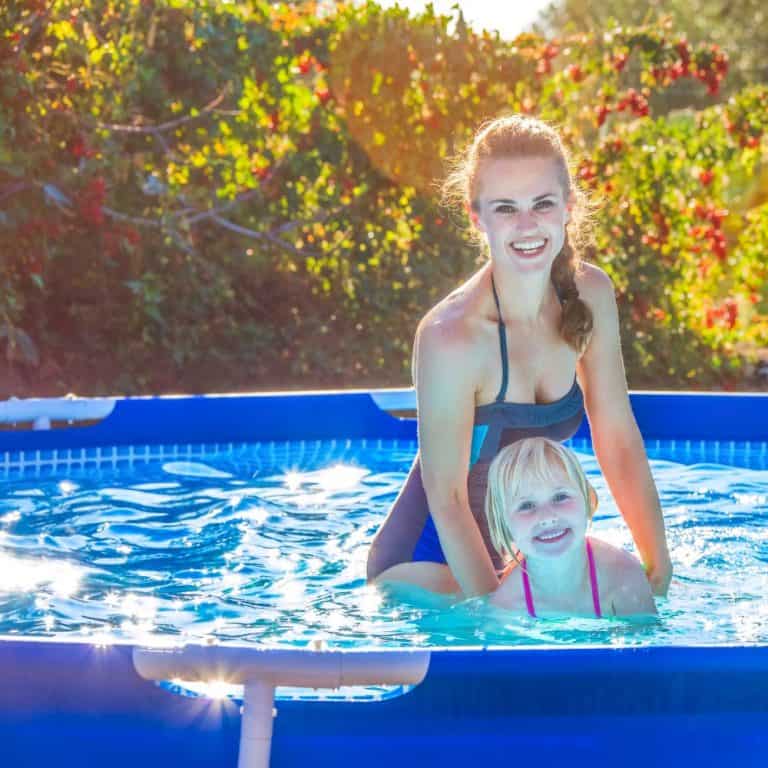 You can take your above ground swimming pool with you when you move
Another huge advantage of an above ground swimming pool set is that they can move with you if you aren't in your forever home. You'll need to undo some of the landscaping work you did when you put in the pool before you sell the house, but it's still a popular option.
In-ground pools, on the other hand, are a permanent addition to your home. They raise the value of your house, but you'll need to install a new one if you purchase a home without a pool.
Lots of pool configurations and designs
Above ground pool sets also have a wide variety of designs that can help you find a pool that fits your yard instead of changing your yard and landscaping to fit your pool. 
Lots of design choices also make it easier to install your pool without having to pay to utility lines to be relocated and other expensive property modifications.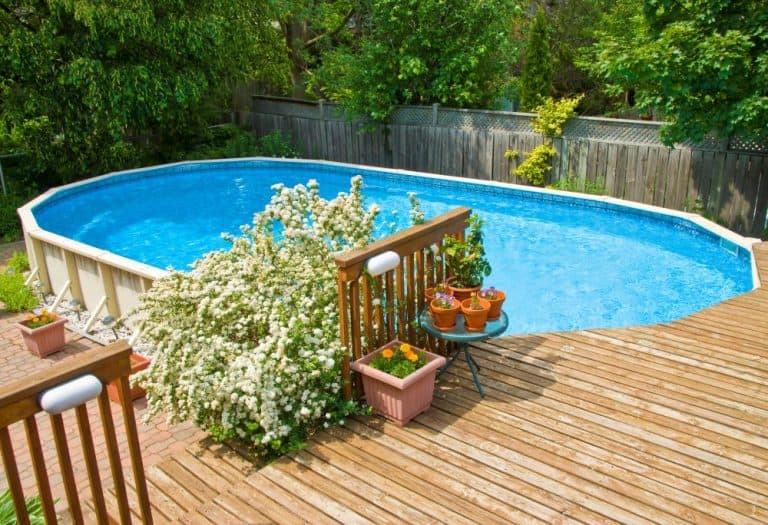 Beat the summer heat and keep cool
There's an above ground pool set to suit your budget and the size of your yard. 
Let us help you find the best pool for you!
Trusted, In-Depth Above Ground Pool Set Reviews and Buying Guides
The past few summers have been the hottest on record in many places across the US. We find that every year there are millions of people searching for an above ground pool. Like us, they want to cool off and escape the summer heat in the comfort and privacy of their backyards. 
No longer do they want to wait for an invitation to a friend's pool or have to drive the kids to a public pool.
At Above Ground Pool Sets, we've found that there's a lack of in-depth reviews of above ground pools. It can be overwhelming trying to decide which is the best above ground pool set to fit your lifestyle, your yard and available budget.
Our mission here at Above Ground Pool Sets is to make it easy to find the right backyard swimming pool. We are creating this site as a place where you can search and compare a large selection of pools on the market. We love researching and spend countless hours every month analyzing, reviewing and comparing above ground pool sets so you can choose the best one that suits you.
Whether you are looking for a small or large above ground pool, have a tight or infinite budget, looking for a specific type of swimming pool such as an inflatable pool, or if you are just starting out and wanting to see the range of above ground pool sets available, we are here to help. 
We help consumers by:
Researching, reviewing and collating above ground pools available on the market
Comparing pool features, expert opinions and buyer feedback on purchases.
Simplify the above ground pool shopping process to make it easy.
You can find our reviews on the best above ground pools (overall top picks to suit everyone), the best rectangular above ground pools and the best round above ground pools. Some of our most popular individual above ground pool set reviews include:
What We Do Best At Above Ground Pool Sets
In our experience we find that every year there are more and more consumers like you wanting to find the best above ground pool specific to their lifestyle and situation.
They only have a small backyard space and want to find a small inflatable pool that they can dismantle during the colder months. They live on a large block and looking for a deep above ground pool, one which is large enough for all their family and friends. They are looking for a large rectangular above ground pool so they can swim laps at home and not have to visit the public swimming pool.
Here, we do things differently. We know that when it comes to above ground pools, no one pool should be crowned the best above ground pool, because it depends on your specific needs. 
We put time and research into helping consumers find the right above ground pool set for them. 
This means that we're able to offer more helpful information, buying guides, above ground pool set reviews and ultimately our recommendations are based on your lifestyle and budget, rather than a generic list of the best above ground pools.
Not only that, we look at the Best Above Ground Pool Accessories on the market as well as publish articles around maintaining your above ground pool.
All the information you find here on Above Ground Pool Sets is free and always will be. To help keep our awesome team researching and bringing you quality above ground pools articles, we may receive a small commission, if you click on a product link and purchase an item. It does not affect the price at all.
Like many of us, Americans love to cool off from the summer heat in a swimming pool. An above ground pool set is a great option to consider as it comes in many sizes, shapes, types and of course at a cheaper price point than a traditional in ground pool.
You can start cooling off in your very own above ground pool for less than $100, or choose the top of the range large above ground pool for around $5000.
But before making a purchase, Above Ground Pools require some research and due diligence upfront. What size above ground pool suits your yard size? How many people will this pool fit? Can I use this pool for exercise and swimming laps?
Too often, these questions are not answered when reading through product descriptions, leading to possibility choosing the wrong above ground pool set for you. Here at Above Ground Pool Sets, we answer's the questions you are asking when looking to make a purchase.
To learn more about our awesome family team behind above ground pool sets, visit our About Us page.